Life Skills Orientation Programme (LiSOP)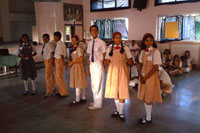 Life skill Orientation Program. Special training to develop life skill by using the tools of decision making, carry one's sexuality with confidence and high self esteem. Value based sex education programs and providing hands on experience with NGOs working in the challenging situations.
Our educational institutions are churning out hundreds of thousands of students year after year. The sole purpose of the majority of them is to ensure their institution achieves cent per cent results - perhaps with a couple of "toppers" or "state rankers" among them. The media blitz that follows such a glorious achievement usually ensures that parents line up to secure admissions for their children to these hallowed institutions with an impeccable track record. There is nothing really amiss in "star performance"... but the question we must ask ourselves is whether or not our children are prepared for the real challenges and reality of life situations?
We are all aware of the growing discontent for our present education system - where children are forced to learn by rote, often burdened with subjects and syllabi that may never benefit them in their future lives. Must we only stress academic achievement?
The urgent need of the hour is that the teaching process caters for holistic development of the child with the accent on character formation. An ideal student, therefore, is one who would not only be competent in academics but also be be guided by his/her conscience, possessing compassion and empathy for others. This commitment would a jus society.
The Life Skills Orientation Programme (LiSOP) is one that teaches and stresses VALUES to school children (8th, 9th, 10th); Youth in Juinior College(11th & 12th); School drop outs and employed youth. Meticulous thought and preparation has gone into the teaching modules which are conducted at the school / college premise, with the active participation of teachers and parents. The life skills taught are an essential part of knowledge based value added education. It helps students to relate their classroom knowledge to their practical life. It orients them to relationships within their environment. It also helps them to understand and adapt life situations with happiness and harmony.
The programme modules cover topics such as -
self realization - that each of us is "special".


the building up of one's self esteem and being comfortable with our own strengths and weaknesses.


taking pride in one's own family and effective communication within the family.


dealing with friends and peer pressure.


seeing life as an "adventure" and learning how to make the right decisions, since all decisions bear consequences.


sensitive discussions on the physical changes that the body goes during puberty.


awareness about pressures from the opposite sex, HIV & Aids.



Today's children / youth are the future of our country. What better way than to start rearing a generation of competent, sensitive individuals with a strong value based education? It is our quest to ensure that every school / college student (of the targeted groups) avails of the opportunity to participate in this LiSOP programme. The benefits will have a mushrooming effect, experienced not only by each individual, but by the family, community and country.
Would you like to be a partner in creating a new, vibrant generation of caring individuals? Please
click here
.
« Return to Projects page